LATEST IN THE LAW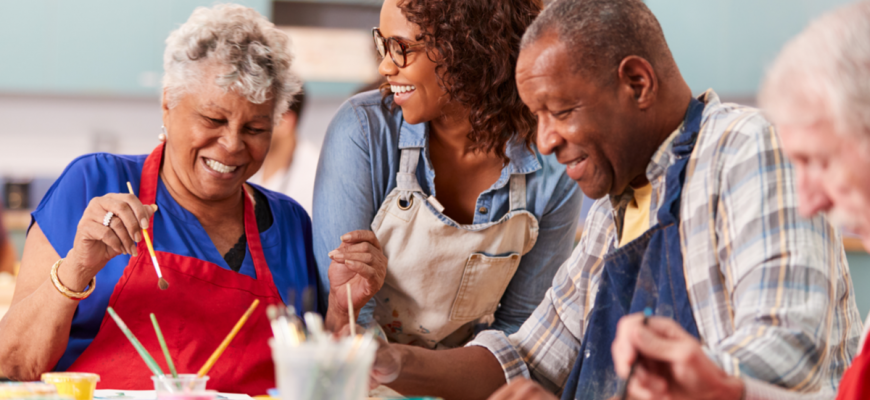 Simple Activities That Can Help Seniors With Dementia
February 26, 2022
0 Comment
Category: Assisted Living
As per the reports of the Alzheimer's Association, more than 5.7 million US citizens are living with dementia every year. This number does not include seniors suffering from other types of dementia and the numbers are expected to increase over time. Even though Alzheimer's and other types of dementia disorders are incurable, their progress can be slowed with medications. Caregivers can also help improve the quality of life of seniors with dementia by offering activities encouraging cognitive stimulation and connection.
If you find yourself struggling to connect with your senior loved one suffering from dementia, understand that you are not alone. Many family members find it very difficult to share conversations and routines with their senior loved ones after the onset of dementia. However, with proper planning and flexibility, It is not difficult to make a meaningful connection with your senior loved one. Some simple activities to help you get started as you plan to visit your senior loved one living in memory care and other assisted living facilities are shared below.
Reminiscing 
Encouraging reminiscing is a very helpful way to connect with your senior loved one living with dementia. As people suffering from dementia tend to keep long-term memories intact for longer than short-term memories, you need to focus on asking questions about their early adulthood and childhood. Also, make sure to ask questions without specified limits, as it can help encourage conversation. After starting the conversation, give time for your senior loved one to respond. The conversation can shift to various topics which is okay. You can listen to your senior loved one and try to learn something new while enjoying the conversation.
Sensory Work 
As per the experts in memory care, making use of more than one sense during an interaction can yield good results for people living with dementia. A very convenient way to incorporate sensory work is to make use of scented lotion for foot or hand massage. The smell and touch can be beneficial to your loved one and you can quickly notice a sense of peace arriving quickly.
Household Tasks 
Failure-free and repetitive tasks can be beneficial to seniors living with dementia. You can do chores and tasks together and may also adapt the tasks if required for mobility challenges. These chores can be an effective conversation starter and can help improve fine motor skills while focusing on building long-term memory. You can make your senior loved one fold towels, sweep out the garage, match socks from the laundry or snap green beans in the kitchen. Remember that the result isn't important, it is the effort that counts.
Walking 
Walking and other easy exercises can help burn the restless energy in people living with dementia. While visiting your senior loved one in an assisted living or another senior living facility, take a walk together. You can point out flowers and other interesting items on your walk together. If your senior loved one is residing at an assisted living facility, their activity calendar can be filled with exercise offerings for seniors with all abilities. Remember to take advantage of it and take part in these beneficial activities together.
Painting Or Coloring 
By painting and coloring together, you can help your senior loved one work on fine motor skills and tap in some creativity. Make use of watercolors and colored pencils to color and paint on adult coloring books. You may also turn on some soft music and work together side by side. Make sure to keep the painting and coloring session to less than fifteen minutes, as seniors suffering from dementia can often have a short attention span.
Share This Story, Choose Your Platform!